---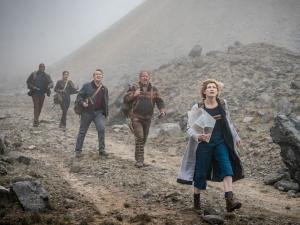 The Battle of Ranskoor Av Kolos
Series Episode Number: 850
World Premiere:
Sun 9 Dec 2018 - 6:25pm GMT [BBC One] (United Kingdom)
First Broadcast:
Sun 9 Dec 2018 - 8:00pm EST [BBC America]
Running Time: 49 minutes 40 seconds
6.65 Million (UK)
Appreciation Index: 79 (UK)
Audience Share: 26.4%(i)
(UK)
Chart Position: 22(i)
() (UK)
---
On the planet of Ranskoor Av Kolos, lies the remains of a brutal battlefield. But as the Doctor, Graham, Yaz and Ryan answer nine separate distress calls, they discover the planet holds far more secrets.
Who is the mysterious commander with no memory? What lies beyond the mists? Who or what are the Ux?
The answers will lead the Doctor and her friends towards a deadly reckoning.