Sarah Jane Smith
Last updated 28 March 2020
Played By

expand all 7 people

Elisabeth Sladen: The Time Warrior; Invasion of the Dinosaurs; Death to the Daleks; The Monster of Peladon; Planet of the Spiders; Robot; The Ark In Space; The Sontaran Experiment; Genesis of the Daleks; Revenge of the Cybermen; Terror of the Zygons; Planet of Evil; Pyramids of Mars; The Android Invasion; The Brain of Morbius; The Seeds of Doom; Doctor Who and The Pescatons[Misc]; The Masque of Mandragora; The Hand Of Fear; Logopolis(uncredited) (from archive recording); A Girl's Best Friend[K9&Co]; The Five Doctors; The Paradise Of Death[Misc]; Dimensions In Time[Misc]; The Ghosts of N Space[Misc]; Comeback[BF]; The TAO Connection[BF]; Ghost Town[BF]; Test Of Nerve[BF]; Mirror, Signal, Manoeuvre[BF]; Snow Blind[BF]; Buried Secrets[BF]; Fatal Consequences[BF]; School Reunion; Dreamland[BF]; Invasion of the Bane[SJA]; Revenge of the Slitheen[SJA]; Eye of the Gorgon[SJA]; Warriors of Kudlak[SJA]; Whatever Happened to Sarah Jane?[SJA]; The Lost Boy[SJA]; The Stolen Earth / Journey's End; The Last Sontaran[SJA]; The Day of the Clown[SJA]; Secrets of the Stars[SJA]; The Mark of the Berserker[SJA]; The Temptation of Sarah Jane Smith[SJA]; Enemy of the Bane[SJA]; From Raxacoricofallapatorius with Love[SJA]; Prisoner of the Judoon[SJA]; The Mad Woman in the Attic[SJA]; The Wedding of Sarah Jane Smith[SJA]; The Eternity Trap[SJA]; Mona Lisa's Revenge[SJA]; The Gift[SJA]; The End of Time; The Nightmare Man[SJA]; Sarah Jane's Alien Files: Episode 1[SJA]; The Vault of Secrets[SJA]; Death of the Doctor[SJA]; The Empty Planet[SJA]; Sarah Jane's Alien Files: Episode 4[SJA]; Lost in Time[SJA]; Goodbye, Sarah Jane Smith[SJA]; My Sarah Jane: A Tribute to Elisabeth Sladen(uncredited)[Factual] (from archive recording); Sky[SJA]; The Curse of Clyde Langer[SJA]; The Man Who Never Was[SJA] | as Sarah-Jane: Exploration Earth[Misc]

168 credits in
69 entries
1 credit in
1 entry
1 credit in
1 entry
2 credits in
1 entry
1 credit in
1 entry
1 credit in
1 entry
1 credit in
1 entry
(this image appears for illustrative purposes only and no attempt is made to supersede any copyright attributed to it)
Sarah Jane Smith





Biography by Nicole-Anne Keyton
Occupation: Investigative journalist
Sarah Jane used to travel throughout time and space with the Doctor. Her first time-space travelling adventure was when she went to UNIT posing as her aunt Lavinia Smith for a journalism opportunity, where, after being acquainted with one John Smith (actually the Doctor), she accidently steps inside the TARDIS and is whisked off to the Middle Ages and encounters a Sontaran. For several years following this, Sarah Jane has been travelling with the Doctor to various planets, space ships, etc throughout time.
After being forced to leave behind her adventures with the Doctor, the TARDIS, and UNIT, she attempts to get back to how her life originally was before, until many years later, she meets the Doctor again in another opportunity at investigative journalism. Meeting the Doctor again seems to put a certain closure Sarah Jane's been expecting since he left her on Earth all those years ago: because the Doctor gets to explain what happened to him after Sarah Jane left, she can accept what happened and move on with her life. She then begins her adventures on Bannerman Road, finding aliens who come to Earth and stopping the ones who want to invade the planet.
Sarah Jane eventually builds up a 'team' of sorts who help her out in her adventures: Luke Smith, her adopted son; Maria Jackson, her neighbour; Clyde Langer, Luke and Maria's friend from school; and Rani, who moves in to Maria's house after Maria moves to America. Together, they encounter aliens, some friendly and some hostile, and defend the Earth.
Notes for Sarah Jane Smith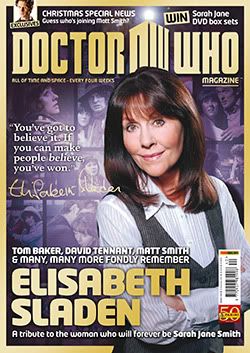 The new
Doctor Who Magazine
(out 20th October) celebrates the life of Elisabeth Sladen in a special 100-page issue. Among those paying tribute are Doctors
Tom Baker
,
David Tennant
and
Matt Smith
. Tom Baker describes Sladen's death in April as "a terrible blow" and remembers being overwhelmed by the public reaction:
Such an outpouring of grief, the spontaneous grief of people, the extravagance of people saying how great and wonderful she was, sprang out of that shock that we've lost part of a culture generated by a programme that goes back… well, she was with me in 1974, and she only died this year. She was a piece of television, wasn't she? A piece of people's lives, their childhoods…
Also in this issue:
Remembering Elisabeth Sladen: Family, friends and colleagues, including Brian and Sadie Miller, Katy Manning, John Barrowman, Louise Jameson, Sophie Aldred, Richard Franklin, John Levene, Philip Hinchcliffe, Terrance Dicks, Christopher Barry, Graeme Harper and many more, share their personal memories of Lis.
The Doctor's Best Friend: DWM takes an in-depth look at the life and times of Elisabeth Sladen, from her childhood in Liverpool, through to her starring roles in Doctor Who and The Sarah Jane Adventures.
The Final Interview: DWM presents Elisabeth Sladen's final magazine interview, originally conducted for Radio Times in 2010, and published here exclusively in full for the first time.
Introducing Miss Smith: It was the series that saw the first appearance of Sarah Jane Smith – and the departure of the Third Doctor. DWM looks at a year of Daleks, Ice Warriors and Sontarans as Countdown To 50 reaches 1973/4's Series Eleven!
The Last Adventures: DWM catches up with Phil Ford, the Head Writer of The Sarah Jane Adventures, and stars Daniel Anthony, Anjli Mohindra and Sinead Michael, about working with Lis and making the final series of the top-rated CBBC spin-off from Doctor Who.
Happy Birthday! Doctor Who's showrunner Steven Moffat has some confidential thoughts to share exclusively with DWM readers in the 100th edition of Production Notes!
World's End! The Doctor, Amy and Alan Turing are on a mission to stop Chiyoko – and save the human race – in Episode 3 of the latest comic strip, The Child of Time by Jonathan Morris with art by Martin Geraghty.
Game On! The Doctor on Big Brother. Rose on The Weakest Link. And Captain Jack with the makeover from hell! DWM's Time Team – Emma, Chris, Will and Michael – travels to the year 200,100 and watches the penultimate Ninth Doctor story, Bad Wolf as their mission to watch every episode in order continues!
Wotcha, Sarah Jane! The Watcher uncovers a feast of fantastic facts about everyone's favourite investigative journalist, in Wotcha!
PLUS! All the latest official news, reviews of TV and merchandise reviews, previews, competitions, a prize-winning crossword and much, much more!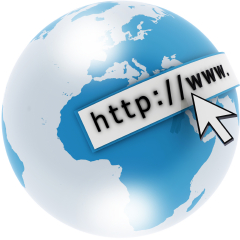 Credit: Harry Ward