---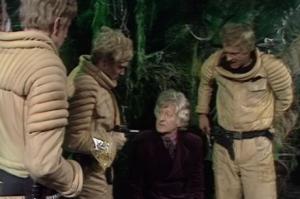 Episode One
Series Episode Number: 344
World Premiere:
Sat 7 Apr 1973 - 6:11pm BST [BBC One] (United Kingdom)
First Broadcast:
Sun 26 Apr 1987 - 11:00pm CDT [WTTW 11 Chicago]
Running Time: 24 minutes 51 seconds
11.00 Million (UK)
Chart Position: 9 () (UK)
Recorded on Mon 22 Jan 1973 in TC4
Archive State: PAL 2 VT
---
Injured by the Orgrons, the Doctor asks the Time Lords to send the TARDIS after the Daleks. Leaving him to sleep and recuperate, Jo goes to explore the planet Spirodon.
---
Additional Details
The working title for this episode provided by
Terry Nation
was "Destinus".