---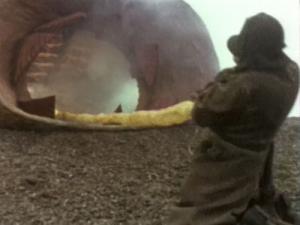 Episode One
Series Episode Number: 289
World Premiere:
Sat 13 Mar 1971 - 5:15pm BST [BBC One] (United Kingdom)
First Broadcast:
Tue 25 Nov 1975 - 6:30pm CST [WTTW 11 Chicago]
Running Time: 23 minutes 51 seconds
7.30 Million (UK)
Chart Position: 57 () (UK)
Recorded on Fri 22 Jan 1971 in Television Centre 3
Archive State: PAL 2 VT
---
Axos lands on Earth. The Axons ask only to be allowed to repair their damaged ship and offer the gift of the miraculous Axonite in return. But the Axons aren't all that they seem.