---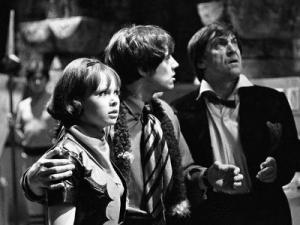 Episode One
Series Episode Number: 228
World Premiere:
Sat 28 Dec 1968 - 5:15pm BST [BBC One] (United Kingdom)
First Broadcast:
Sun 2 Nov 1986 - 11:00pm CST [WTTW 11 Chicago]
Running Time: 23 minutes
9.00 Million (UK)
Appreciation Index: 59 (UK)
Chart Position: 55 () (UK)
Recorded on Fri 22 Nov 1968 in Lime Grove D
Archive State: 16mm t/r
---
The TARDIS lands on the planet of the Gonds, a primitive and enslaved people. Every year, two of the finest Gond students are sent to be 'companions' of the mysterious and unseen Krotons. But the Doctor reveals that only death awaits them.