---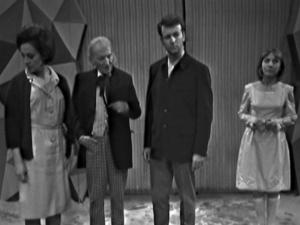 The Space Museum
Series Episode Number: 68
World Premiere:
Sat 24 Apr 1965 - 5:41pm BST [BBC One] (United Kingdom)
First Broadcast:
Sun 31 Aug 1986 - 11:00pm CDT [WTTW 11 Chicago]
Running Time: 23 minutes 38 seconds
10.50 Million (UK)
Appreciation Index: 61 (UK)
Chart Position: 16 () (UK)
Recorded on Fri 02 Apr 1965 in Television Centre 4
Archive State: 16mm t/r
BBC Genome Project:
see entry
---
Exploring a museum on the planet Xeros, the travellers discover they are invisible. The Doctor deduces that the TARDIS has jumped a time track and can see their own future.
Cliffhanger: having temporarily been frozen in time, the travellers discover their exhibits have vanished, and the Doctor realises that they have caught up with themselves in time ...