Donald Wilson
Last updated 27 July 2014
Production Credits

BBC Head of Script Department:

The Creation of Doctor Who[]

1 credit in
1 entry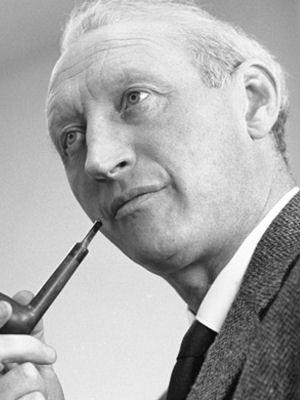 (this image appears for illustrative purposes only and no attempt is made to supersede any copyright attributed to it)
Donald Wilson
Born: Thu 1st September 1910
Died: Wed 6th March 2002 (age: 91)


Donald Wilson was a British television writer and producer, best known for his work on the BBC's adaptation of The Forsyte Saga in 1967.
It was Wilson who, as head on the BBC Script Department, commissioned the report that lead to the creation of Doctor Who.
His initial career was in the film industry, working for MGM at Elstree Studios, where he was Assistant Director of such films as Jericho (1937) and Goodbye, Mr. Chips (1939). During the war he worked on documentary films, and then in 1955 was recruited to BBC Television by the then Head of Drama, Michael Barry.
When the Script Department was rendered redundant by Sydney Newman's radical shake-up of the BBC Drama Department after his arrival as its head in 1962, the highly respected Wilson was given one of the most senior positions under Newman as Head of Serials. In this position, Wilson was responsible for overseeing the creation and development of  Doctor Who. It was Wilson, together with Newman and staff writer C. E. Webber, who co-wrote the first format document for the programme.
In 1965, Wilson gave up his position as Head of Serials to concentrate on realising a long-held ambition of bringing The Forsyte Saga to the screen. Acting as both adapter and producer, Wilson created one of the BBC's most popular and successful drama serials of all time, which was a huge hit on its eventual screening on BBC Two in 1967, and was quickly repeated on BBC One. Later, he acted as adapter and producer again on such prestigious costume dramas as The First Churchills (1969) and Anna Karenina (1977).
He went on to work for Anglia Television before retiring to his home in Gloucestershire, where he died at the age of 91 in March 2002.
Biography from the Wikipedia article, licensed under CC-BY-SA