Anthony Coburn
Last updated 27 July 2014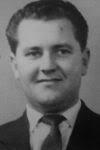 (this image appears for illustrative purposes only and no attempt is made to supersede any copyright attributed to it)
Anthony Coburn
Born: Sat 10th December 1927
Died: Thu 28th April 1977 (age: 49)

Anthony Coburn  was an Australian television writer and producer, who wrote the first ever episode of Doctor Who.
Coburn spent much of his professional career living and working in the United Kingdom. He moved to the UK in the 1950s, where he joined the staff of BBC Television. 
It was while working as a staff writer for the BBC in 1963 that he became involved in the early development of the science-fiction series Doctor Who. He liaised closely with the series' first Story Editor, David Whitaker, on establishing the format and characters of the show, which had been initiated by various BBC drama executives before being handed on to the new production team. 
It is believed to have been Coburn's idea for the TARDIS to externally resemble a police box, the thought apparently having come to him after taking a walk near his office and spotting such a box on the street. It was also his idea for the Doctor's travelling companion, Susan, to be his granddaughter, as he was disturbed by the possible sexual connotations of an old man travelling with an unrelated teenager.
Coburn wrote two full serials for the programme, An Unearthly Child and The Robots. Only An Unearthly Child was produced and it was the first ever Doctor Who serial to be made, despite both Coburn and the production team's misgivings about its prehistoric settings. The Robots was continually delayed and put back in production order, and then finally rejected — following this, Coburn severed his links with the show.
Coburn died in 1977 of a heart attack while preparing to take over as producer of the long-running BBC police drama series Z-Cars.