Reviews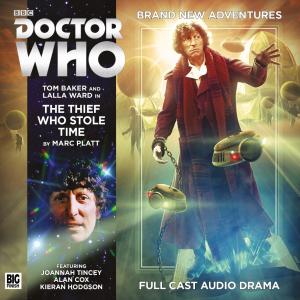 Written By: Marc Platt
Directed By: Ken Bentley
Cast
Tom Baker (The Doctor), Lalla Ward (Romana),
Joannah Tincey (Sartia), Alan Cox (Eamonn Orensky),
Kieran Hodgson (Klick Chervain),
Des McAleer (Blujaw Skaldson),
Alex Wyndham (Linnis Skaldson), Jamie Newall (Greygul), Jane Slavin(Frithra), John Banks (The Sleek).
Romana has been cruelly abandoned by her old Time Lady friend, and the Doctor is left, to not only clear up a mess with the furious locals of the planet Funderell that concerns the 'accidental' killing of their God, but also to try to deduce what the Time Lords have done to the fascinating planet....Oh yes, and the TARDIS has been lost, absorbed by the ever moving liquid skin of the planet's surface......things are looking grim.....
The Thief Who Stole Time is essentially parts three and four of the previous story, The Skin of the Sleek - and starts, in true classic Doctor Who style, by quickly and efficiently resolving the cliffhanger from the previous episode. As with the the first two parts of this story, not only is the story telling first rate but the world building is fantastic and quite dazzling.
I felt that the only (very slight) let down is that new Time Lady Sartia (Joannah Tincey) descends into a moustachioed twirling villain far too quickly, readily explaining her dastardly plans to anyone who will listen - but this is quite fun in a way, and harks back to the time of simpler writing. It didn't detract from my enjoyment of this story as a classically staged four parter.
The standout performance for me was Tom Baker himself, who seems to be reaching new levels with the character through Big Finish, and is just an absolute joy to listen to for anyone who enjoyed his era, particularly the later years. I actually laughed out loud at a number of his one liners - yes they are expertly written by Marc Platt, but Tom absolutely owns every word by the manner in which he delivers them. Lalla Ward is also excellent of course and delivers some real gravitas to the scenes between her and Sartia, when she struggling to understand why someone who she thought of as a friend, should actually despise and resent her.
The Skin of Sleek and The Thief Who Stole Time are essential listening to any fan of the Baker era. Not to be missed.
Both stories are available now from Big Finish as a digital download or an audio CD.
Filters:
The Thief Who Stole Time
Big Finish
Audio
Third Doctor