Eric Flynn
Last updated 09 January 2020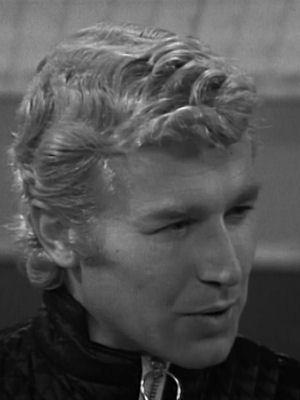 (this image appears for illustrative purposes only and no attempt is made to supersede any copyright attributed to it)
Eric William Flynn
Born: Wednesday 13th December 1939
Died: Monday 4th March 2002 (age: 62)


Eric Flynn was a Chinese born British actor and singer
Born in Hainan, Flynn married his second wife Caroline, a South African, in 1981. Flynn's daughter from his second marriage, Lillie Flynn, finished a three-year acting degree at The Central School of Speech and Drama in 2007 and his son Johnny Flynn is an actor and singer.
Eric Flynn appeared as Alan-A-Dale in A Challenge for Robin Hood in 1967, as Leo Ryan in the Doctor Who story The Wheel in Space in 1968, as Ivanhoe in a 1970 TV mini series and as Major Tom Graham in series five of Freewheelersin 1971. He was also an established musical theatre actor appearing in shows such as "Evita", "Annie Get Your Gun", "The Sound Of Music", "My Fair Lady", "A Little Night Music" and "Copacabana" starring alongside the likes of Lauren Becall and Maria Freidman.
He died of cancer at his home in Pembrokeshire, Wales on aged 62.
Biography from the Wikipedia article, licensed under CC-BY-SA