Elizabeth Spriggs
Last updated 09 January 2020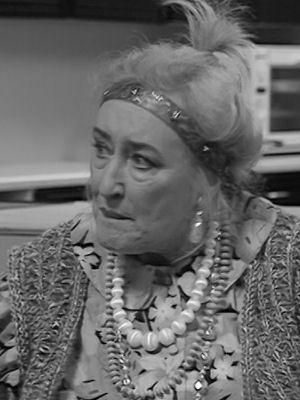 (this image appears for illustrative purposes only and no attempt is made to supersede any copyright attributed to it)
Elizabeth Jean Williams
Born: Wednesday 18th September 1929
Died: Wednesday 2nd July 2008 (age: 78)


Elizabeth Spriggs was an English character actress.
She appeared in the 1987 Doctor Who story Paradise Towers
Spriggs  studied at the Royal College of Music and taught speech and drama in Coventry, Warwickshire. She was a regular performer with the RSC under Peter Hall until 1976, playing many important Shakespearean roles, including Nurse in Romeo and Juliet, an acclaimed Gertrude in Hamlet opposite David Warner, Calpurnia in Julius Caesar, Mistress Ford in The Merry Wives of Windsor and a witty Beatrice in Much Ado About Nothing. 
On television she was in Frederic Raphael's The Glittering Prizes (1976), played Connie, the head of a battling South London family in the thirteen-part drama Fox (1980) and was the formidable Nan in the ITV comedy series Shine On Harvey Moon (1982–85). She appeared in three plays by Alan Bennett:Afternoon Off (1979), Intensive Care (1982) and Our Winnie (1982). 
In 1990, she gave a memorable performance in the BBC adaptation of Jeanette Winterson's Oranges Are Not the Only Fruit and in 1992, was in television versions of Kingsley Amis's The Old Devils and Angus Wilson's Anglo-Saxon Attitudes.