Gary Downie
Last updated 09 January 2020
Acting Credits

expand all 4 roles

1 credit in
1 entry
Production Credits
4 credits in
1 entry
2 credits in
1 entry
27 credits in
9 entries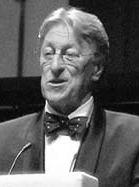 (this image appears for illustrative purposes only and no attempt is made to supersede any copyright attributed to it)
Roderick Gary Downie Pinkus
Born: Wednesday 17th July 1940
Died: Thursday 19th January 2006 (age: 65)


Gary Downie was a production manager on many 1980's episodes of  Doctor Who, and partner the then producer John Nathan-Turner. 
His own analysis of the role of a production manager can be found on the BBC DVD release of The Two Doctors.
Downie also worked on I, Claudius, All Creatures Great and Small and Star Cops.
Downie was the author of the early eighties book 'The Doctor Who Cookbook'. Many Doctor Who celebrities donated recipes to the volume including Ian Marter and Lalla Ward.
Together with Nathan-Turner, Ian Fraser, and Fiona Hughes, he formed Teynham Productions, a theatrical group specializing in pantomime.
In Richard Marson's 2013 book The Life and Scandalous Times of John Nathan-Turner  Marson alleges Downie sexually assaulted him, and details other accusations of inappropriate behavior by Nathan-Turner and Downie, during the former's period as the series' producer.
Downie died on 19 January 2006 after a long battle with cancer.