Adam Garcia
Last updated 09 January 2020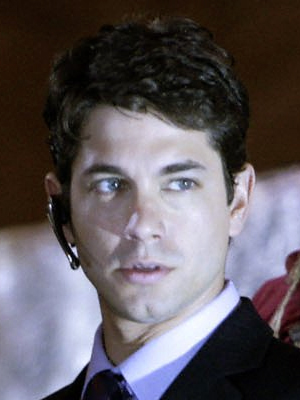 (this image appears for illustrative purposes only and no attempt is made to supersede any copyright attributed to it)
Adam Gabriel Garcia
Born: Friday 1st June 1973 (age: 50)


Adam Garcia (born in Wahroonga, New South Wales, Australia), played Alex Klein, Prime Minister Harriet Jones' assistant, in TV: The Christmas Invasion.
Garcia left university to take the role of Slide in the production of the musical 'Hot Shoe Shuffle', which toured Australia for two years before transferring to London.
He stayed on in London to star in several West End musicals. Dein Perry, the choreographer of 'Hot Shoe Shuffle', went on to found the successful stage show 'Tapdogs'. In 2000 Adam Garcia played 'Sean' in Bootmen, a movie based on the Tapdogs story.
Despite the fact that he has starred in such movies as Coyote Ugly, it was not until 2004, when he participated as rock star Stu Wolff in Confessions of a Teenage Drama Queen that he gained mainstream fame as an actor.
However, Garcia had long been an accomplished stage actor before the release of that movie. He played Doody in the West End's version of Grease in London. He also played another Travolta character, Tony Manero, in the stage version of Saturday Night Fever, which ran from 1998 to 1999 in London.
Garcia has been nominated for multiple awards during his acting career. His transition into a film actor began in 1997, when he played Jones in Wilde, a movie about the life of writer Oscar Wilde.
In September 2006, Garcia began playing Fiyero in the London production of the Stephen Schwartz musical Wicked.
In 2009, Garcia played the role of Stefan in the ITV drama Britannia High.
Biography from the Tardis Wiki article, licensed under CC-BY-SA