Elin Manahan Thomas
Last updated 24 May 2015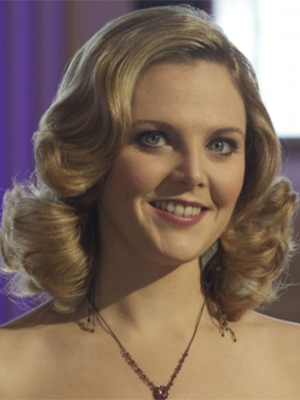 (this image appears for illustrative purposes only and no attempt is made to supersede any copyright attributed to it)
Elin Manahan Thomas
Born: 1977 (age: 46)





Elin Manahan Thomas is a Welsh soprano, best known as a performer of Baroque music.
Biography
Thomas was born in 1977 in Gorseinon near Swansea, the daughter of M. Wynn Thomas OBE, a Professor of Literature at Swansea University, and Karen Thomas. She was educated at the Welsh-speaking Ysgol Gyfun Gŵyr in Gowerton near Swansea, and by the time she was fifteen was singing in the Swansea Bach Choir. She won a choral scholarship to Clare College in Cambridge University, where she gained a starred first in Anglo-Saxon, Norse and Celtic, and completed an MPhil. After auditioning to Sir John Eliot Gardiner she joined the Monteverdi Choir and in the year 2000 sang much of the Bach Cantata Pilgrimage. In 2001 she moved to pursue postgraduate vocal studies at the Royal College of Music in London.
She went on to sing with The Sixteen, Polyphony, Cambridge Singers and The Gabrieli Consort, as well as pursuing a solo career. She is the first singer ever to record Bach's Alles mit Gott, a birthday ode written in 1713 and discovered in 2005. She first received great acclaim for her 'Pie Jesu' on Naxos' award-winning recording of the Rutter Requiem.
In 2006 Elin married baritone opera-singer Robert Davies. The couple live in Brighton in Sussex, and have one son.
Performances
Concert performances include Mozart Vespers in the Mostly Mozart Festival for Harry Christophers; Britten's Death in Venice for Richard Hickox in the QEH; Mozart concert arias with the Gabrieli Consort in the Barbican Hall; Bach's Christmas Oratorio with Peter Schreier in St John's Smith Square; Mozart's Mass in C Minor in King's College Chapel; Glück's Orfeo in the Snape Maltings; Haydn's Heiligemesse and Mozart Vespers on a tour of the USA; the Monteverdi Vespers in St Mark's, Venice; Mendelssohn's Midsummer Night's Dream in the Palau de Musica, Barcelona; and Purcell's Dido and Aeneas in Seoul and Kuala Lumpur. She has performed Judith Weir's King Harald's Saga in collaboration with the composer, and premièred Sir John Tavener's latest work Shunya at his 60th birthday concert. She visited Rochester Cathedral for a Classic FM Concert at Christmas 2008. She performed Handel's cantata "Eternal Source of Light Divine" during the 2012 Summer Paralympics opening ceremony in London. In July 2013, Elin performed at two special Doctor Who Proms, celebrating the fiftieth anniversary of the show
Recordings
Her first solo album, Eternal Light, recorded with the Orchestra of the Age of Enlightenment conducted by Harry Christophers, was released in June 2007.
Biography from the wikipedia article, licensed under CC-BY-SA