Vinette Robinson
Last updated 27 July 2014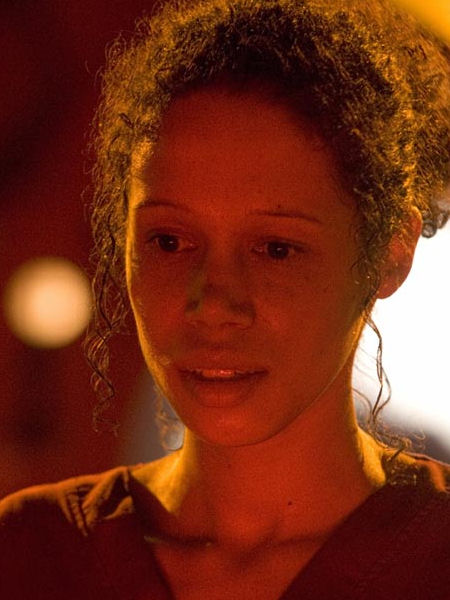 (this image appears for illustrative purposes only and no attempt is made to supersede any copyright attributed to it)
Vinette Robinson
Born: 1981 (age: 42)


Vinette Robinson was born in Bradford. She attended the former Intake High School (now Leeds West Academy) and took a BTEC.
Robinson attended a child agency school and made her television debut in The Cops at the age of 17. Following this she spent three years at the Webber Douglas Academy of Dramatic Art, where she was awarded a Laurence Olivier bursary from the Society of London Theatre. Additional television roles include minor appearances in Cold Feet and Doctors, and a supporting role in the Doctor Who story 42.
In 2006 she played Eve in an acclaimed production of Paradise Lost. Commenting on her nude scene, Sheila Tracy of The Stage wrote "one can not imagine the action working in any other way". Her performance in Sugar Mummies that same year led New York to list her as one of "London's hottest young stage actors" in 2007.
Following the conclusion of Sugar Mummies, she appeared in a short feature for Time Out, in which she and five other actors were described as "innovative young theatrical talent".
In 2009, she played Josie Porritt in the BBC television series Hope Springs and appeared as newly-qualified English teacher Helen Hopewell in eight episodes of Waterloo Road's fifth series. From December 2009 to January 2010, she starred as the maid Florence in the Hampstead Theatre's Darker Shores. In a Daily Telegraph review that rated the play only two stars, Charles Spencer commended Robinson's performance has having "a warmth and emotional openness".[7] Kate Bassett for The Independent on Sunday also praised her, writing that she "copes admirably". In 2010, she stars as police sergeant Sally Donovan in the BBC series Sherlock, continuing her role in the second series airing in January 2012.
Biography from the Wikipedia article, licensed under CC-BY-SA