Debbie Chazen
Last updated 09 January 2020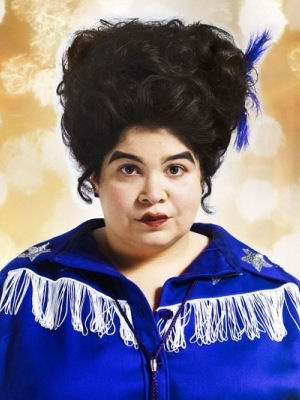 (this image appears for illustrative purposes only and no attempt is made to supersede any copyright attributed to it)
Debbie Chazen
Born: Wednesday 1st September 1971 (age: 52)


Debbie Chazen is an English actress most famous for playing the roles of Annie in the BBC comedy The Smoking Room, Big Claire in Mine All Mine and various roles in the BBC sketch show Tittybangbang.
The daughter of Arnold Chazen,  she was born in London and trained at LAMDA. She appeared in the Mike Leigh film Topsy Turvy, Gimme Gimme Gimme, the final episode of Mile High, EastEnders and Lucy Sullivan Is Getting Married, as well as playing the role of Fred's maid in the 1999 version of A Christmas Carol and of Fanny Squeers in the 2001 version of The Life and Adventures of Nicholas Nickleby.
Her theatre work includes Mother Clap's Molly House at the National Theatre, London, by Mark Ravenhill, the role of the Good Fairy in the Barbican Theatre's first ever pantomime, Dick Whittington and His Cat, in 2006 and Dunyasha in Jonathan Miller's version of Chekhov's The Cherry Orchard in Sheffield (March 2007). In 2006 she also played the role of Maribel in a new play called Crooked at the Bush Theatre, for which she received much acclaim. An article in the International Herald Tribune newspaper compared the quality of her performance to the likes of Judi Dench and Maggie Smith. Another role that she played to great acclaim was that of Tessa in The Girlfriend Experience, which she performed three times, twice at the Royal Court Theatre and then again when the production was re-staged at The Young Vic.
Chazen appeared in two episodes of Midsomer Murders, and in the Doctor Who 2007 Christmas Special Voyage Of The Damned. In November and December 2008 she played Milton's sister Susan in Another Case of Milton Jones on BBC Radio 4.
She starred as Ruth in the stage show Calendar Girls, running from November 2009 - January 2010 at the Noel Coward theatre in Leicester Square, during which time she was diagnosed with breast cancer and had to withdraw half way through the run in order to start treatment. Luckily, she made a full recovery and returned to Calendar Girls in the same role for a national tour at the end of 2010.
She had a running story line in Doctors in 2010 as Sissy Juggins, who along with her brother Ivor Juggins kidnapped Dr. Jimmi Clay, and was nominated for a Soap Award. She has also appeared in one episode of Eastenders as Minty's blind date and two episodes of Coronation Street as Miriam, a social worker sent to interview the characters Becky and Steve.