Edward Evans
Last updated 09 January 2020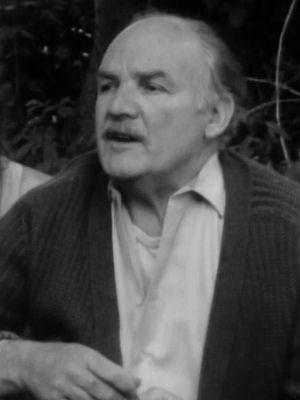 (this image appears for illustrative purposes only and no attempt is made to supersede any copyright attributed to it)
Edward Evans
Born: Thursday 4th June 1914
Died: Thursday 20th December 2001 (age: 87)


Edward Evans was a British film and television actor.
During World War II, he served with the British Army in Italy and North Africa, reaching the rank of Captain.
Evans starred as Bob Grove in the popular 1950s soap opera The Grove Family, and played the role of Lionel Petty in Coronation Street during (1965-66).
He played Ted Moss in the Doctor Who serial Image of the Fendahl.
In a long career he also appeared in Heart of the Country, The Bil, Shine on Harvey Moon, Suez 1956, George & Mildred, Z Cars, Mr. Big, One-Upmanship, Poldark, Out of Season, The Gathering Storm, Father Brown, BBC Play of the Month, Crown Court, Within These Walls, Play for Today, Whodunnit?, The Fenn Street Gang, Comedy Playhouse, Dixon of Dock Green, Till Death Us Do Part, The Regiment, Tales from the Crypt, Freewheelers, Sunday Bloody Sunday, Out of the Unknown, The Dick Emery Show, Doomwatch, 10 Rillington Place, The Main Chance, Steptoe and Son, Dad's Army, Confession, One More Time, Two a Penny, Thirty-Minute Theatre, Paul Temple, Armchair Theatre, Softly Softly, The Saint, Till Death Us Do Part, The Company of Five, The Tyrant King, The Expert, The Revenue Men, Man in a Suitcase, The Gamblers, No Hiding Place, Hancock's, The Wednesday Play, Sir Arthur Conan Doyle, Adam Adamant Lives!, The Troubleshooters,, Cluff, ITV Play of the Week, Public Eye, Blind Corner, Gideon's Way, Mike, Catch Hand, The Villains, Compact, First Night, The Victorians, Suspense, The Human Jungle, The Plane Makers, The Birth of a Private Man, Reach for Glory, The River Flows East, Garry Halliday, Two and Two Make Six, The Winter's Tale, Barbara in Black, BBC Sunday-Night Play, Maigret, Jacks and Knaves, You Can't Win, About Religion, ITV Television Playhouse, Alcoa Presents: One Step Beyond, On Trial, Deadline Midnight, The Four Just Men, The Trials of Oscar Wilde, The Men from Room 13, The Vagrant Heart, The Bridal Path, The Naked Lady, Sunday's Child, William Tell, The Man Upstairs, Duty Bound, The Grove Family, The Jack Benny Program, Assignment Foreign Legion, Pantomania, or Dick Whittington, The Angel Who Pawned Her Harp, Man of the Moment, It's a Great Day, Escape by Night, Valley of Song, Turn the Key Softly, Grand National Night, Deadly Nightshade, Cosh Boy, Appointment in London, The Yellow Balloon, Time Bomb, Little Red Monkey, BBC Sunday-Night Theatre, I Believe in You, The Secret People, Mr. Denning Drives North, Hindle Wakes, The Case of Charles Peace, The Small Voice, London Belongs to Me