Noel Clarke
Last updated 09 January 2020
Acting Credits

expand all 8 roles

Self: A New Dimension[Factual]; I Get a Sidekick out of You[Factual]; Why on Earth?[Factual]; Unsung Heroes and Violent Death[Factual]; New New Doctor[Factual]; Friends Reunited[Factual]; From Zero to Hero[Factual]; Welcome to Torchwood[Factual]; Front Row[Related]; Doctor Who in the U.S.[Factual]; The Doctors Revisited: The Fifth Doctor[Factual]; The Doctors Revisited: The Ninth Doctor[Factual]; Doctor Who Explained[Factual]; The Doctors Revisited: The Tenth Doctor[Factual]; Doctor Who: The Ultimate Companion[Factual]; Backstage at Christmas[Factual] | as "Mickey": The Ultimate Guide[Factual] | as Guest: Totally Doctor Who (#1.1)[Factual] | as Guest Presenter: Doctor Who Prom (2008)[Music] | as Participant: The Weakest Link[Related]

20 credits in
20 entries
15 credits in
12 entries
1 credit in
1 entry
2 credits in
1 entry
3 credits in
3 entries
1 credit in
1 entry
1 credit in
1 entry
Production Credits
1 credit in
1 entry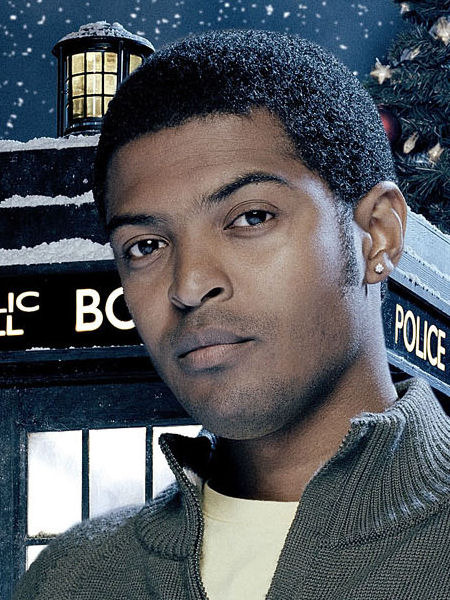 (this image appears for illustrative purposes only and no attempt is made to supersede any copyright attributed to it)
Noel Anthony Clarke
Born: Saturday 6th December 1975 (age: 48)




Noel Clarke is an English actor, director and screenwriter from London. He is best known for playing Wyman Norris in Auf Wiedersehen, Pet and Mickey Smith in Doctor Who.
Clarke appeared in and wrote the screenplay for Kidulthood and wrote, directed and starred in the sequel, Adulthood, which gained £1,209,319 from the opening weekend of its release.
Clarke studied Media at the University of North London before going on to take acting classes at London's Actors Centre.
One of his first TV roles was as Wyman Norris in the revived series of Auf Wiedersehen, Pet (2002-2004).
In 2005 he was cast as Mickey Smith, boyfriend of Rose Tyler, in the first two series of the revived Doctor Who.
He reprised his role as Mickey in the episode "Journey's End" in 2008 and in 2010 in "The End of Time" Part 2.
He has also starred in the Doctor Who audio series Dalek Empire: The Fearless, which was released from September to December 2007.
Other TV work includes appearances in Casualty and Metrosexuality.
He has also acted on the stage, and won the Laurence Olivier Award for "Most Promising Newcomer" in 2003 for his performance in the play Where Do We Live at the Royal Court Theatre.
Clarke starred in the film Doghouse, directed by Jake West and produced by Carnaby Films International.
Clarke began his writing career in 2005 when he wrote the screenplay for the film Kidulthood which was released in 2006. He also directed and starred in the sequel, Adulthood, which was released in 2008. His other writing credits include "Combat" which is an episode of the Doctor Who spin-off series Torchwood, and West 10 LDN, a pilot for BBC Three which is about kids on a rough housing estate.
In 2008 he starred in the video for The Prodigy single "Invaders Must Die".
In 2009, Clarke was awarded a BAFTA award in the category of Orange Rising Star Award. As a result of the success of Kidulthood, Adulthood, and his BAFTA win, he was ranked at number 83 in the MediaGuardian 100, an annual ranking of media people in The Guardian.
He also played the role of A.J.,opposite Jim Sturgess, in Philip Ridley's cult fim, Heartless.