Steven Robertson
Last updated 09 January 2020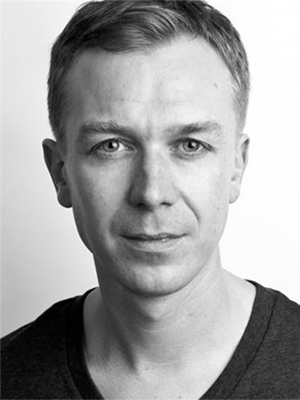 (this image appears for illustrative purposes only and no attempt is made to supersede any copyright attributed to it)
Steven Robertson
Born: Saturday 1st January 1977 (age: 46)



Steven Robertson is a Scottish theatre, film and television actor best known for his role as a young man with cerebral palsy in Inside I'm Dancing and for playing Dominic Rook in the popular BBC Three comedy-drama series Being Human. He has had roles in numerous television programs including Being Human, Luther and The Bletchley Circle. He also played Constable Sandy Wilson on the TV adaptation of Ann Cleeves' Shetland, filmed near where Robertson was born and brought up. Robertson has even won an Ian Charleson award for his role in Chekhov's 'The Seagull'. He battled and overcame severe dyslexia as a child and went on to be named Fife College's student of the year.
Personal life
He grew up in the small village of Vidlin in the Shetland Islands with his two sisters. Before pursuing an acting career, Robertson worked as an odd-job man in his village. Growing up, he was close to the Shetland poet Rhoda Bulter. He stated that she was the trigger for him pursuing a career in performing by telling him old Shetland tales. He was the first Shetlander to be accepted into Guildhall School of Music and Drama. Whilst there he met his girlfriend, the actress Charlotte Allam. He is also a member of Aya Theatre and has starred in their adaptation of George Orwell's Burmese Days as Flory. He currently lives in Hertfordshire.
Career
Robertson's first major film role came in 2004 when he starred alongside fellow Scottish actor James McAvoy in Inside I'm Dancing. The film received a mixed response with Rotten Tomatoes gave the film a rating of 5.8 out of 10.
He then went on to play a small part in the 2005 film Kingdom of Heaven as an Angelic Priest. Following this, he had a big role in the 2005 French war film Joyeux Noel in which he played Jonathan, a young man whose brother was shot dead during WW1. Robertson then went onto play characters in numerous TV dramas, including Luther where he played both of the Millberry twins, a murderous duo who decided their victim's fate on the roll of a dice.
Robertson then went onto play one of his most notable roles as Dominic Rook, a government leader whose department protects the world from supernaturals, in series 5 of the British supernatural drama Being Human.
He recently worked on series 2 of Utopia, a British conspiracy thriller for Channel 4 where he played the role of Terrence.
In January 2015, it was announced Steven would be appearing in a 2 part story written by Toby Whithouse for the 9th series of the hit BBC1 series Doctor Who in a role to be confirmed. Filming will run until February with transmission sometime in autumn 2015.
Shetland
Robertson returned to his home in Shetland to film the TV series of the same name along with Douglas Henshall to star as Constable Sandy Wilson, for the BBC One adaptation of the popular Ann Cleeves book series. The series was criticised for its lack of Shetland accents, with Robertson being the only main cast member born and brought up on the islands. However the series attracted over 6 million viewers and a second series was commissioned featuring Brian Cox, Julie Graham and Alex Norton and Robertson's character now as a Detective. Robertson stated to Digital Spy that his portrayal of Constable Wilson was a "nice break from playing killers and creeps."
Biography from the wikipedia article, licensed under CC-BY-SA