Alison Cheney
Last updated 28 March 2020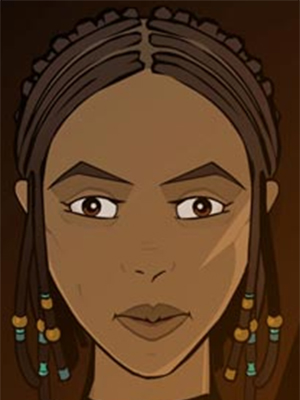 (this image appears for illustrative purposes only and no attempt is made to supersede any copyright attributed to it)
Alison Cheney
Alison Cheney was a barmaid who travelled with the Ninth Doctor.
Alison was Joe's girlfriend. She once took up a degree in History, but had to drop it to live with Joe.
She met the Ninth Doctor in 2003 when she worked at the pub in the abandoned town of Lannet, Lancashire. The Doctor had just arrived in the TARDIS. Noticing the absence of people in Lannet, he came in for a drink. The Shalka had by this time caused a mass exodus of the townsfolk, who did not understand that an alien invasion had taken place but, nevertheless, fled in fear.
Alison was subsequently kidnapped by the Shalka, who modified her body to transmit the Shalka's screams. At the end of the Shalka incident, Alison accepted the Doctor's invitation to become his companion. Joe however shows concern on Alison travelling with the Doctor, in fear of her safety, the Doctor notes the Tardis is a Time Machine and he has probably already dropped Alison at her Grandmothers House. When Joe phones up and ask if Alison is there, he gets a negative answer.
Biography from the TARDIS Data Core article, licensed under CC-BY-SA