The Gunfighters
Last Updated 12 Mar 2013 by Chuck Foster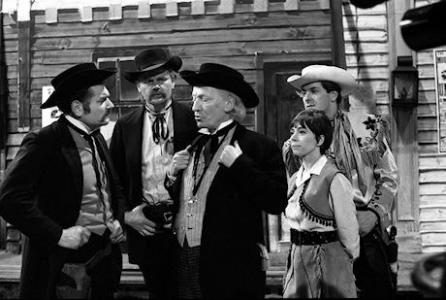 The Gunfighters
Story Number: 25 (Z)


Writer:
Donald Cotton
Director:
Rex Tucker
Starring: :
William Hartnell
,
Jackie Lane
,
Peter Purves
,
Richard Beale
,
David Cole
,
David Graham
,
William Hurndall
,
Anthony Jacobs
,
Laurence Payne
No of Episodes: 4
First Broadcast: Sat 30 Apr 1966 - Sat 21 May 1966
Running Time: 95 minutes 20 seconds

Average Audience: 6.25 Million Average AI: 38
Tombstone, Arizona, 1881. The air is filled with the sounds of shooting, cussing, and toe-tapping tunes knocked out on the battered piano at the Last Chance Saloon. And then there is something less familiar: the wheezing, groaning sound of a Police Box materializing. The Doctor and his companions arenít the only newcomers in town. The Clanton brothers have ridden in to settle a grudge with Doc Holliday, the notorious gambler, drinker, and dentist. In the Wild West, tempers are short, guns are swift, and a momentís hesitation on the draw can mean death.