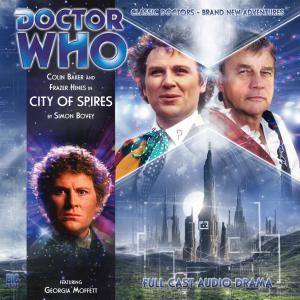 City of Spires
Story Number: 133 (BF)
No of Episodes: 1
Big Finish Release (United Kingdom):
First Broadcast: Friday 30th April 2010
Running Time: 2 hours
Arriving in a hail of musket fire, the Doctor unexpectedly finds himself in the highlands of Scotland, where the ruthless Black Donald and his band of rebels are fighting the Redcoats. But the highland warriors no longer fight for the Jacobite cause and the English officers answer only to the mysterious Overlord. What has happened to Scotland and why are its moors littered with advanced, oil-pumping technology?