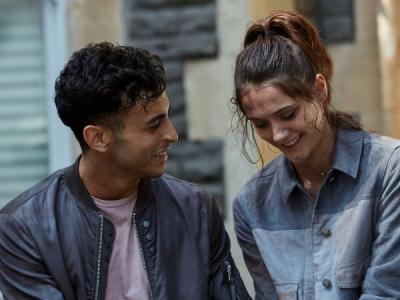 Co-Owner Of A Lonely Heart / Brave-ish Heart
Story Number: 4
No of Episodes: 2


Writer:
Patrick Ness
Director:
Philippa Langdale
Executive Producer:
Brian Minchin
,
Steven Moffat
,
Patrick Ness
Starring:
Katherine Kelly
,
Greg Austin
,
Fady Elsayed
,
Sophie Hopkins
,
Vivian Oparah
,
Jordan Renzo
,
Pooky Quesnel
,
Moses Adejimi
,
Con O'Neil
BBC Three (United Kingdom):
First Broadcast: Saturday 5th November 2016 - Saturday 12th November 2016
Running Time: 1 hour, 28 minutes, 24 seconds
April starts to feel effects of sharing her heart with Corakinus, and his attempts to sever the attachment only make it stronger. When April's estranged father makes a startling appearance she confronts him with Shadow Kin force, manifesting traits of the Shadow Kin leader. Frightened by this extraordinary new-found power, April seeks comfort in Ram, and vows to reclaim her heart as her own. Meanwhile, something strange is happening to the others - London is slowly being infested with unusual, sinister flower petals.
Battling through the Shadow Kin realm, April knows that there is no going back: she has to defeat Corakinus. On Earth, the invasion of the petals is rapidly snowballing. Confronted with the threat of the planet's extinction, new headmistress Dorothea attempts to force Charlie into making a transformational decision. But Miss Quill has other ideas for him. As Charlie, Matteusz and Tanya try to stop the petals from annihilating the human race, April must fight the terrifying force of Corakinus, light years away from home.