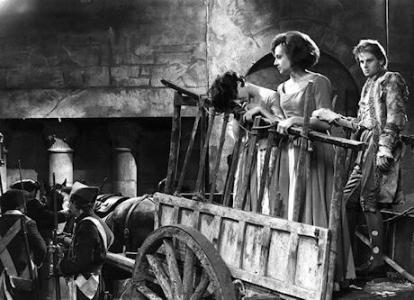 The Reign Of Terror
Story Number: 8 (H)
No of Episodes: 6



Writer:
Dennis Spooner
Director:
Henric Hirsch
,
John Gorrie
Producer:
Verity Lambert
Starring:
William Hartnell
,
William Russell
,
Jacqueline Hill
,
Carole Ann Ford
,
John Barrard
,
Jack Cunningham
,
Laidlaw Dalling
,
Roy Herrick
,
Neville Smith
,
James Cairncross
BBC One (United Kingdom):
First Broadcast: Saturday 8th August 1964 - Saturday 12th September 1964
Running Time: 2 hours, 27 minutes, 32 seconds
Average Audience: 6.73 Million Average AI: 55
The TARDIS brings the four time travellers to Paris in 1794 - one of the bloodiest years of the French Revolution - where they become involved with an escape chain rescuing prisoners from the guillotine. Ian, Barbara and Susan are captured by soldiers and taken to the Conciergerie Prison in Paris, where they arouse the interest of its governor, Lemaitre (James Cairncross). The Doctor, left for dead in a burning farmhouse, is rescued by a young boy (Peter Walker) and makes his way to Paris on foot.
Ian escapes from the prison, much to the alarm of the incompetent jailer (Jack Cunningham), while Barbara and Susan are rescued en route to the guillotine by Jules Renan (Donald Morley) and Jean (Roy Herrick) - two organisers of the escape chain. Ian eventually meets up with his friends at Renan's house, and later exposes one of the man's associates, Leon Colbert (Edward Brayshaw), as a traitor betraying escapees to the authorities.
The Doctor, posing as a civic dignitary, has meanwhile arrived at the Conciergerie Prison in search of his friends. Twice he is brought by Lemaitre before the great tyrant Robespierre (Keith Anderson) and has to talk his way out of trouble.
It eventually transpires that Lemaitre is an English undercover spy, James Stirling, in Paris to observe developments there. In return for his help in freeing Susan, who has been recaptured and taken back to the Prison, Ian and Barbara journey to an inn called the Sinking Ship to spy on a clandestine meeting between Robespierre's deputy, Paul Barrass (John Law), and an even more ambitious man, Napoleon Bonaparte (Tony Wall), who are plotting the tyrant's downfall. The two friends subsequently report back to Stirling, who is intrigued at the suggestion that Bonaparte could be the next ruler of France.
As events reach their climax, Robespierre is overthrown - shot in the jaw and dragged off to the Prison - and the Doctor and his companions slip quietly away.
Synopsis from Doctor Who: The First Doctor Handbook by David J. Howe, Mark Stammers and Stephen James Walker, reprinted with permission; further reproduction is not permitted. Available from Telos