Barnaby Edwards
Last updated 02 May 2020
Acting Credits

expand all 43 roles

1 credit in
1 entry
1 credit in
1 entry
1 credit in
1 entry
1 credit in
1 entry
1 credit in
1 entry
19 credits in
14 entries
1 credit in
1 entry
2 credits in
2 entries
1 credit in
1 entry
1 credit in
1 entry
1 credit in
1 entry
1 credit in
1 entry
1 credit in
1 entry
1 credit in
1 entry
1 credit in
1 entry
1 credit in
1 entry
1 credit in
1 entry
1 credit in
1 entry
4 credits in
1 entry
4 credits in
4 entries
1 credit in
1 entry
3 credits in
3 entries
1 credit in
1 entry
1 credit in
1 entry
2 credits in
2 entries
4 credits in
1 entry
1 credit in
1 entry
1 credit in
1 entry
2 credits in
2 entries
1 credit in
1 entry
1 credit in
1 entry
3 credits in
1 entry
1 credit in
1 entry
3 credits in
1 entry
4 credits in
1 entry
1 credit in
1 entry
4 credits in
1 entry
4 credits in
1 entry
4 credits in
1 entry
4 credits in
1 entry
1 credit in
1 entry
Production Credits
79 credits in
62 entries
5 credits in
5 entries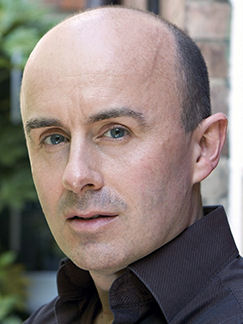 (this image appears for illustrative purposes only and no attempt is made to supersede any copyright attributed to it)
Barnaby Edwards
Born: Wednesday 20th August 1969 (age: 54)




Barnaby Edwards is a British actor, writer, director and artist. He is known as a performer for Doctor Who, in the role of a Dalek operator, often alongside his partner Nicholas Pegg. He has also directed Big Finish Doctor Who audio stories.
Edwards graduated from the University of Exeter in 1991 with a degree in Fine Art and French. He subsequently went on to train at the Guildford School of Acting, where he won the Postgraduate Award for Acting in 1992.
Since then Edwards has worked in the theatre, television, radio and audio plays, as a director and writer. Edwards is also an artist and his pictures hang in galleries and private collections across Europe as well as being exhibited widely within the UK. Following a successful show at the Blue Lias gallery in Lyme Regis, Barnaby was asked to form one third of the Three West Country Artists exhibition in 1998. The Kingfisher Gallery in Devon held a major exhibition of his work encompassing nearly thirty new paintings, and in 2006 he exhibited a selection of pieces at the FSA Summer Exhibition.
Barnaby regularly lectures on art history and art techniques, both in Britain and farther afield. He has given talks on subjects as diverse as European Narrative Painting, Pastel Techniques, Victorian Sea Paintings, Life Drawing, and Greek and Roman Myths in Western Art. He also gives practical tuition both to individuals and to groups, including art workshops on landscape, figure and still life.
In 2010, Barnaby set up Textbook Stuff, specialising in audio-books of classic short stories and poems. Readers include Miriam Margolyes, Peter Guinness, John Sessions, Nicholas Pegg and David Soul. The company distributes via iTunes, Lulu and Big Finish.