---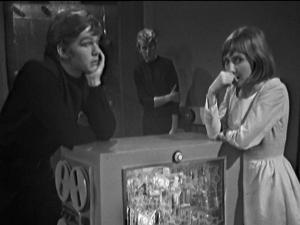 The Search
Series Episode Number: 70
World Premiere:
Sat 8 May 1965 - 6:00pm BST [BBC One] (United Kingdom)
First Broadcast:
Tue 2 Sep 2014 - 8:00pm EDT [Retro TV]
Running Time: 23 minutes 33 seconds
8.50 Million (UK)
Appreciation Index: 56 (UK)
Chart Position: 22 () (UK)
Recorded on Fri 16 Apr 1965 in Television Centre 4
Archive State: 16mm t/r
BBC Genome Project:
see entry
---
As events escalate, the travellers fear that they will not be able to escape their fate. Vicki helps orchestrate a raid on the Moroks' armoury. Ian attempts to rescue the Doctor.
Cliffhanger: Ian is taken into the preparation centre, where he discovers what's happened to the Doctor ...