---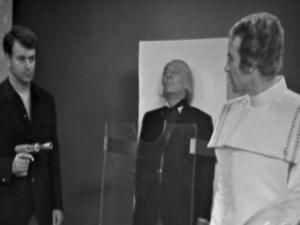 The Final Phase
Series Episode Number: 71
World Premiere:
Sat 15 May 1965 - 5:40pm BST [BBC One] (United Kingdom)
First Broadcast:
Tue 2 Sep 2014 - 8:30pm EDT [Retro TV]
Running Time: 22 minutes 15 seconds
8.50 Million (UK)
Appreciation Index: 49 (UK)
Chart Position: 27 () (UK)
Recorded on Fri 23 Apr 1965 in Television Centre 4
Archive State: 16mm t/r
BBC Genome Project:
see entry
---
After forcing Lobos to revive the Doctor, Ian is also taken prisoner. The Xeron rebellion is underway whilst the fate of the Doctor and his friends still hangs in the balance.
Cliffhanger: On Skaro, a Dalek reports that the time travellers have been located, and the Dalek Supreme then proclaims that they will be exterminated ...