Steven Moffat
Last updated 12 June 2015
Acting Credits

expand all 4 roles

68 credits in
68 entries
Production Credits
61 credits in
39 entries
136 credits in
120 entries
1 credit in
1 entry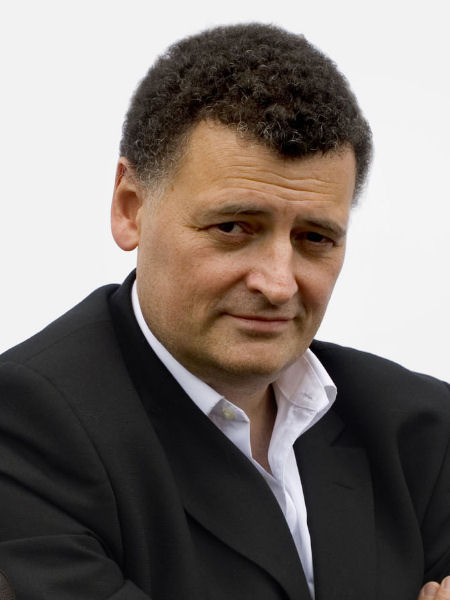 (this image appears for illustrative purposes only and no attempt is made to supersede any copyright attributed to it)
Steven William Moffat
Born: Sat 18th November 1961 (age: 54)



Steven Moffat is the current lead Writer and Executive Producer of Doctor Who.
Moffat was born in Paisley, Scotland, where he attended Camphill High School. He studied at the University of Glasgow, where he was involved with the student television station, GUST After gaining an MA degree in English from Glasgow, he worked as a teacher for three years at Cowdenknowes High School, Greenock.
Moffat's first television work was the teen drama series Press Gang starring Julia Sawalha and Dexter Fletcher, which ran for five series on ITV between 1989 and 1993, with Moffat writing all forty-three episodes. The programme won a BAFTA award in its second series. His first sitcom, Joking Apart, was inspired by the breakdown of his first marriage; conversely, his later sitcom Coupling was based upon the development of his relationship with television producer Sue Vertue. he also wrote Chalk, a sitcom set in a comprehensive school inspired by his own experience as an English teacher.
He wrote the Hartswood Films drama series Jekyll, a modern version of The Strange Case of Dr Jekyll and Mr Hyde, which aired on BBC One in June and July 2007. In 2008 he scripted the first The Adventures of Tintin film for director Steven Spielberg. He co-created Sherlock, an adaptation of the Sherlock Holmes detective stories.
Moffat has been a fan of Doctor Who since childhood. His first professional contribution to Doctor Who was a prose story, "Continuity Errors", which was published in the 1996 Virgin Books anthology Decalog 3: Consequences. In 1999 he scripted the parody Doctor Who and the Curse of Fatal Death, which aired as part of Comic Relief's Red Nose Day charity telethon. In 2004 Moffat was signed to write for the revival of Doctor Who. His contribution for the 2005 series was the Hugo Award-winning two-part story "The Empty Child"/"The Doctor Dances". He wrote an episode for each of the two following series of Doctor Who: "The Girl in the Fireplace" in the 2006 series and "Blink" in the 2007 series.
The BBC announced in May 2008 that Moffat would be taking over from Russell T Davies as head writer and executive producer for the revived show's fifth series, to be broadcast in 2010. As executive producer and head writer, he was significantly involved in casting Matt Smith as the Eleventh Doctor.